Take a look at the brand new Welcome Handbook for anyone interested in having Chinese Medicine and Acupuncture at AcuMedic:
http://www.acumedic.com/pdf/staffuploads/789_acumedicpatientwelcomehandbook.pdf

The brochure introduces the AcuMedic Centre and its range of healthcare services and benefits. It also provides the hugely popular tongue chart; instructions for taking Chinese herbal medicine; and a few words from some of the AcuMedic patients who have overcome chronic conditions. Some frequently asked questions are also answered. We hope this guide can encourage people to try Chinese Medicine and Acupuncture.
Please don't forget that much more further information is available on this website.
Click here to access our full collection of lifestyle and clinical guides.
Click here to see the complete list of services at the AcuMedic Centre.
Click here to read the answers to frequently asked questions about Chinese Medicine and Acupuncture at AcuMedic.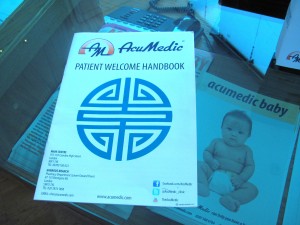 Let us know what you think about this new handbook!